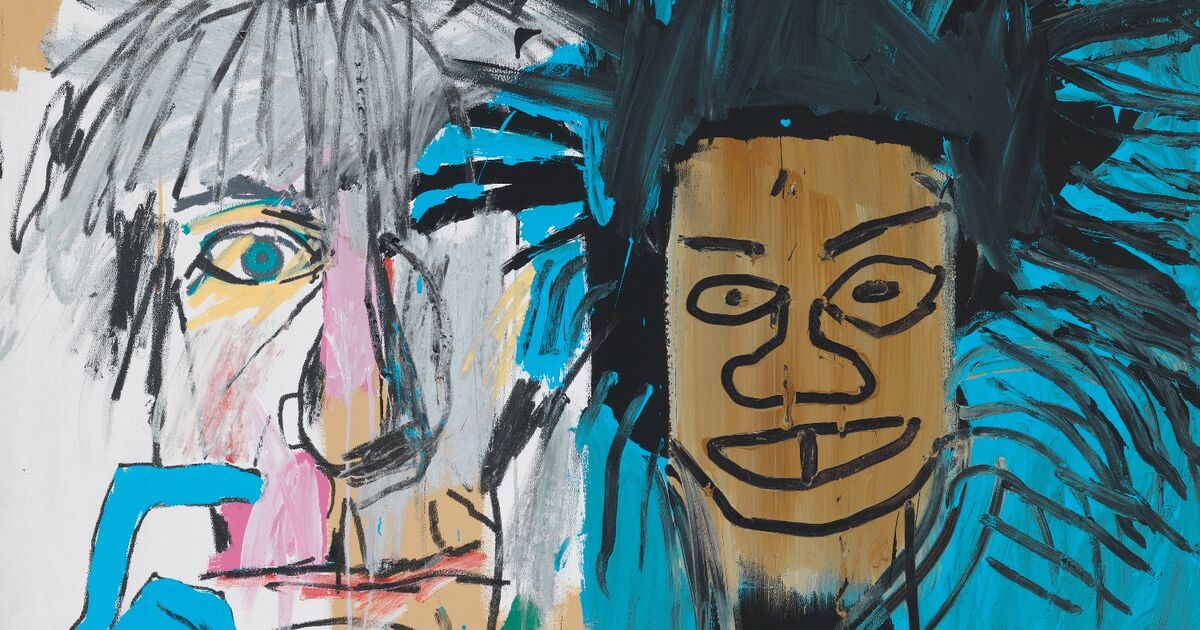 When collaborations between Jean-Michel Basquiat and Andy Warhol were first exhibited at Tony Shafrazi Gallery in September 1985, they were critically panned. Considered by some to be a cynical attempt to revive the careers of both artists, they have rarely been put on view since. However, curators at the Fondation Louis Vuitton in Paris have gathered together 70 of their joint works in a major show which they hope will lead to a more positive reappraisal.
Basquiat and Warhol first started working together in parallel to a three-way collaboration between the two artists and Francesco Clemente, which had been suggested by their dealer, Bruno Bischofberger. The collaboration with Clemente had been loosely inspired by the exquisite corpses of the Surrealists and saw canvases being shipped from studio to studio, with each artist responding to the work of the other two alone. In marked contrast, Basquiat and Warhol chose to work together in the same space, first at The Factory on Broadway and later on 33rd Street. It seems that Basquiat and Warhol felt they had a particularly close connection as they continued working together in private, not revealing what they were doing to Bischofberger for quite some time.
"They took turns painting, observing, and reacting to what the other had just painted on the canvas—so it was more of a choreography between the two artists," said Dieter Buchhart, one of the curators of the Fondation's show, when explaining their working method. Despite both being art world stars, there was no rivalry between Warhol and Basquiat, and their "collaboration and friendship was a close and respectful one," said co-curator Anna Karina Hofbauer.
Warhol's focus on consumerism and the entertainment industry might at first glance seem diametrically opposed to Basquiat's preoccupation with political issues, particularly the racism which he himself was constantly a victim of, yet they managed to create "something unique by combining their respective motifs into highly intriguing compositions with multiple layers of meaning," said Hofbauer.
For Buchhart, Arm and Hammer II (1984–85) is a key work in understanding their collaboration. First, Warhol painted the logo of baking soda brand Arm & Hammer on a golden background. Basquiat then added a white surface on the left side on which he painted and drew a portrait of the jazz musician Charlie Parker, identified by the date of his death—1955—and the saxophone he played. Basquiat crossed out the words "arm" and "hammer" with broad black brushstrokes, and superimposed the words "commemorative" and "one cent," creating what Buchhart called "somewhat of a commemorative coin for his hero Charlie Parker."
The work "highlights the exciting discursive dialogue between the two artists in a wonderful way," said Buchhart. "Basquiat countered Warhol's images and thus changed the meaning of what was depicted but he still respected Warhol's hand-painted creation."
When asked to identify other major works in the show, Hofbauer said it "is difficult to say which are the most important," but she singled out China Paramount (1984), African Masks (1984–85), OP OP (1984–85), Third Eye (1985), Felix the Cat (1984–85), and 6.99 (1985) as "highlights not to be missed."
Though the curators said that these joint works have significant artistic merit in their own right, Buchhart also believes that the collaboration served to invigorate the solo works of Basquiat and Warhol, with both artists influencing each other intellectually and creatively. "On Basquiat's advice, Warhol returned to hand-painting, kicking off the final chapter of his artistic career," he said. And while Basquiat had been working with silkscreen—a medium particularly associated with Warhol—since 1982, his use of the technique intensified during their collaboration.
So, why do the curators think the initial response to the joint works was so negative? Hofbauer sees the idea of the individual artist genius, which developed in the 19th century, as the main hindrance to understanding the greatness of their collaboration. She believes a negative view of Warhol was also a contributing factor. "Unfortunately, everything Warhol did at the time was highly criticized," said Hofbauer.
Auction results for their joint creations have certainly paled in comparison to the astonishing sums paid for their individual works. To date, the auction record for a Basquiat and Warhol collaboration is the $11.4 million paid for Zenith (1985) at Phillips in New York in 2014. Last year, GE/Skull (1984–85) and ½ Keep Frozen (1984–85) sold for a rather more modest $4.6 million and $3 million, respectively, at Christie's in New York.
Whether the Fondation Louis Vuitton exhibition will have an impact on their critical appreciation, and future sales prices, remains to be seen. Buchhart noted that the works have already been gaining increased attention in recent years. "It is precisely in this current era, in which the idea of new systems of collaboration, either of an artistic or social nature, and the idea of collectivity are of such importance, that these collaborations appear in a new light," he said.
The curators themselves certainly feel the time is right for a reevaluation. "The collaboration between Basquiat and Warhol is a true rediscovery—the works are magnificent, and this exhibition can finally present these two artist geniuses in the light they deserve," said Hofbauer.