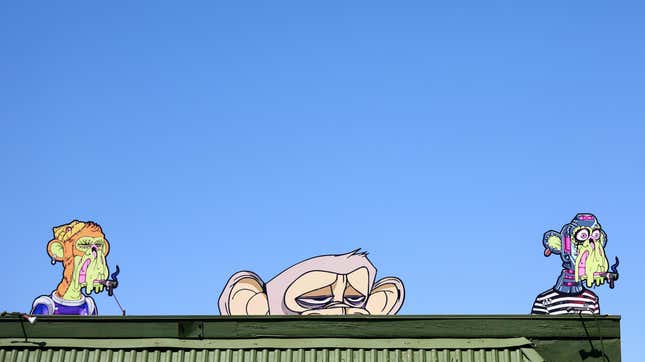 Just because NFTs have lost much of their mainstream appeal, doesn't mean the token creators are done fighting tooth and nail for the last scraps of past boom times. Late last week, a California judge decreed that those silly, derivative, and disturbing Bored Ape Yacht Club non-fungible tokens have trademark protection. Unfortunately for quite a few NFT creators out there, this decision comes long after most projects probably could have used it.
What Motivated Simone Giertz To Build Her Own Tesla Pickup Truck? | Gizmodo Talks
Alex Borstein's Embarrassing Moment from Catwoman | io9 Interview
Friday 10:25AM
If An AI Reworks Copyrighted Images, Is It Art? | Future Tech
Thursday 12:45PM
Last Friday, California district Judge John Walter ruled in favor of BAYC maker Yuga Labs in its ongoing lawsuit against conceptual artist Ryder Ripps, saying the dead-eyed NFTs featuring stoned apes in various get-ups had trademark because they "have specific uses and values that are dependent on the consumer." The judge said that while Yuga Labs had never registered a copyright on its apes, those protections are implied on creation, and the company has done enough dealing with its NFTs to show it has ownership on that trademark.
Last June, Yuga Labs sued Ripps in a rather awkwardly jokey lawsuit that claimed the artist was "trolling" the NFT maker and was "scamming" consumers, further claiming "This is no mere monkey business."
The judge also denied that there was any artistic merit in Ripps' copycat NFTs, saying the sale of RR/BAYC is "no more artistic than the sale of a counterfeit handbag." This could be a reference to luxury handbag-maker Birkin, which won a trademark lawsuit against the makers of the "MetaBirkins" NFT collection. Walter also ruled in favor of Yuga saying Ripps had been cybersquatting on a BAYC site with his RR/BAYC.com.
The amount Ripps owes in damages will be determined at a later trial. Ripps' lawyers have claimed that the NFTs sold for about $1.6 million, and the creator himself has claimed they sold for "over a million." The Bored Ape maker first sued Ripps and his compatriot Jeremy Cahen last year, saying that Ripps and co. with their RR/BAYC project outright stole from the Yuga Labs' own designs. Ripps claimed he was protected under fair use, and that his not-Bored Apes were a satire to "protest and educate people regarding the Bored Ape Yacht Club and the framework of NFTs."
A Yuga Labs spokesperson told Gizmodo in an email that "This isn't just a win for us, it's a win for the entire web3 industry to hold scammers and counterfeiters accountable."
The writing may have been on the wall for Ripps and his fake NFTs. Earlier this year Yuga Labs settled a separate lawsuit against Thomas Lehman, who coded the RR/BAYC site and smart contract for the fake apes. In a statement, Lehman denounced the project and said he provided all his remaining RR/BAYC to Yuga Labs to "destroy." Of course, this ignores how the crypto diehards still claim that all content on the blockchain is "immutable," but let's just move on.
In an email statement, Ripps and Cahen's attorney Louis Tompros said "Mr. Ripps and Mr. Cahen stand by their view that the RR/BAYC artistic project is protected by the First Amendment and that Yuga does not have valid and enforceable trademarks in NFTs. We expect to appeal."
Ripps himself hasn't taken the news lying down. On Monday, he tweeted complaining about the judge's decision.
Though if Ripps' true intention was to display the excesses of NFT creators, it seems time has already done that to BAYC. According to CoinGecko, the price of bored apes has steadily declined from April 2022 highs. Though NFTs gained some traction in February and March, data from Dune Analytics shows most popular trading sites show NFT trading volumes are way down so far this April.